Hide And Seek Games Essay
I've found myself wondering lately which of my patients were lucky enough as children to play hide-and-seek with their parents. When it's played as it's meant to be, it's such a delightful game. Kids ask to play it, though, only when they're confident that they'll be found. In that way, it's a bit like psychotherapy: Only when patients feel hopeful that their experiences and feelings will be understood does the work begin in earnest.
We all need to hide sometimes. We need to go into the private space of our mind and take measure of our thoughts. We need to enter this space so we can reflect. And then, having done so, we long to be discovered by someone who's looking, someone who really wants to find us. If we never have our feelings known and accepted by the people who are important to us, then hiding is no game; it's a way of life.
It is "joy to be hidden," the pediatrician and psychoanalyst D.W. Winnicott once wrote, "but disaster not to be found."
Early in my training as a psychologist, I worked with a 4-year-old girl for whom hiding was a way of life. That girl, Sandra, was selectively mute. She spoke on occasion inside her home, but never in public. After years in which no one had come looking for her, she had gone into a deep and desperate hiding.
In our first session, Sandra and I met with her mother in a room full of toys. The mother was a small woman in her mid-30s whose dark hair, pulled back in a ponytail, set off an angry and anxious face. The pair sat down at a long table, and the mother turned away from both of us. I brought over some toys — fuzzy hand puppets and a basket of plastic fruit. No one moved. After a minute, I put a dog puppet on my hand and started feeding it a plastic banana, narrating all the while: "Yum, yum, yum. Boy, that tastes good." I glanced at Sandra. She was intrigued. I glanced at her mother. She was still looking away.
After watching me play and narrate for a few minutes, Sandra picked up a plastic apple and began bouncing it on the table. I made percussion noises in time with the bounces: "Ba-dum, ba-dum, ba-dum." Sandra looked at me and smiled. She bounced the apple faster. I kept time. She threw the apple into the basket. It landed with a thud. "Kaboom," I said. She was really smiling now. I glanced again at her mother. She looked crestfallen.
Sandra grabbed the puppet off my hand and smashed it on the table. I spoke the part of the wounded puppet: "Ouch. Yowie zowie. Oh, boy, that hurt." Sandra grinned widely. Then she got up from the table, walked to another part of the room and silently called me to join her with a curl of her tiny index finger. I arrived at her side. She pointed to a basket high on a shelf and asked, in perfectly articulated English, as if speaking were the simplest thing in the world and she did it all the time, "What's in that?"
I took down the basket and we explored its contents. We continued playing, both of us speaking now, until the hour ended. I was sorry it was over. I squatted down and told her so, adding that I was looking forward to playing with her again next week. When I straightened up and turned toward her mother, I was alarmed to see that her mother's face was fixed in a tight, angry expression. She gestured to the room, strewn with toys from an hour of play, and said to her daughter in disgust, "Look at the mess you've made!"
I haven't seen Sandra in many years. She would be a woman now. When I think of the little girl she was, my heart breaks. Not only did her mother fail to look for her, but when Sandra did venture from her hiding place, she was also intensely shamed. All those feelings Sandra and I played with during that first session — the hunger of need, the joy of connection, the excitement of curiosity, the thrill of anger — were denied by her mother, who condemned her daughter for having them: "Look at the mess you've made!"
Soon after this session, I began working with Sandra's mother in her own therapy. I continued to work separately with Sandra, too, but my hope was that the work with the mother would help them both.
In meeting with the mother, I learned, not surprisingly, about how she herself had never been found as a child because no one had come looking. She passed it down like a genetic trait. I'm sure it could be traced to Sandra's grandparents as well, and to their parents before them. None of these people was a villain. If there's one thing I've learned in my years as a therapist, it's that there are no villains. Rather, there are generations upon generations of hurt people who cause others pain because it's the only way they know how to communicate their own.
By turning away from Sandra, by failing to engage with her, by shaming her, Sandra's mother showed her daughter what her own disaster felt like. Strange to think that mother and daughter shared that feeling, because it seemed to be all they did share.
I no longer work with children, but I'm so glad I did. The years I spent engaging with them in play has taught me much about therapy with adults. It has helped me understand what allows for — or prevents — a playful engagement in treatment with my grown up patients. What I mean by a playful engagement is a stepping-back from one's own tightly held perspective so as to fool around with other ways of looking at things. When we engage in this way, my patients and I formulate ideas that are rich with meaning, but we hold them lightly, because we're ready to build on them, reshape them or even let them go, just as a tower of blocks might be transformed into a rocket ship or happily demolished to make way for something new.
Play is not always an easy thing to master. First we have to be met where we are, and understood well enough, by someone who's interested and engaged. I think that's what I did for Sandra when I made percussion noises in time with her bouncing apple, and again when I acknowledged her anger when she smashed the puppet. I can't say I planned it that way. Rather, it just felt natural to narrate what was going on. In doing so, I gave voice to some of her feelings. I found her — or at least some aspects of her — and I showed her that her feelings weren't shameful. Not to me at least. After she saw this, Sandra could begin to play in earnest.
In broad outline, I think this is what happens in therapy with my adult patients, too — at least when all goes well. And when it does, I am left moved and enriched by the chance to playfully seek to discover, along with them, who it is they are.
Details have been altered to protect patient privacy.
Alison Carper is a psychologist in private practice in New York.
Couch is a series about psychotherapy.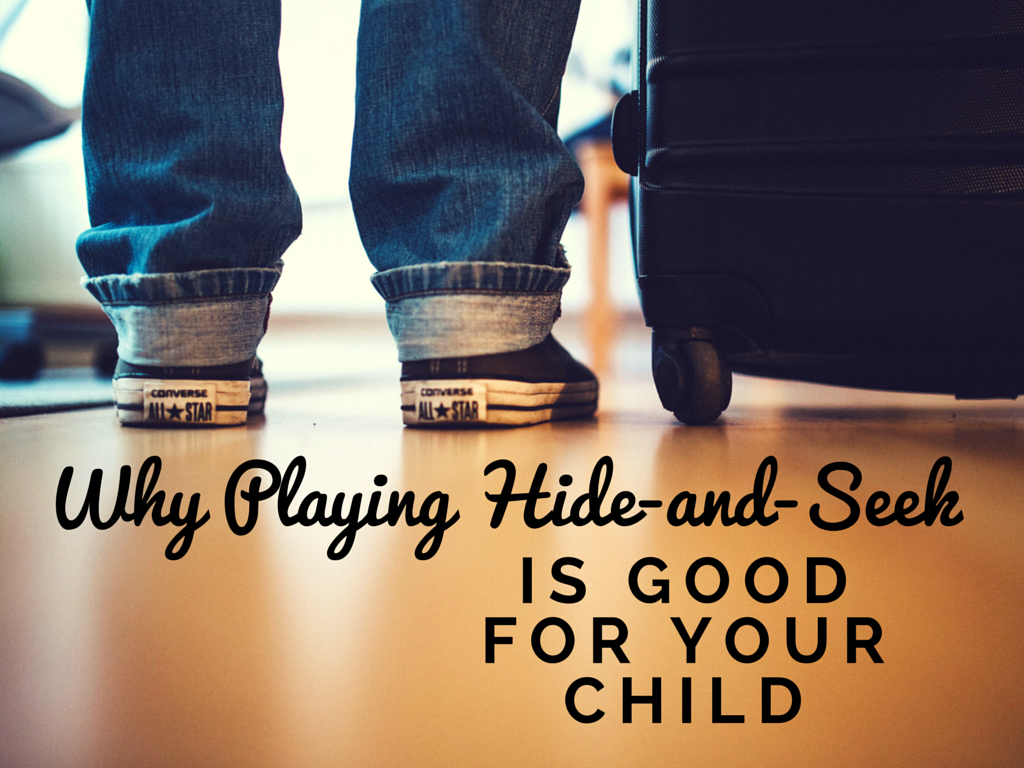 Children love to play hide-and-seek from their earliest days, but it's not just a silly game.
Playing peekaboo with your baby leads to searching for hidden objects and, ultimately, to the excitement of playing hide-and-seek, of being hunter or hunted without the risk of getting hurt. Whether it's peekaboo, hide-and-seek, or hunt-the-thimble, what are the real benefits and risks of these simple childhood games? Why should we encourage them to play?
There are some clear cognitive benefits to playing hiding games. Peekaboo makes them giggle but also teaches them the concept of object permanence; that things can still exist even though they might not be able to see them. Searching for objects or people encourages children to use their imagination and helps them develop problem-solving skills as they try to work out the best place to hide or find their target. They can even start to appreciate the concept of volume as they try to find the smallest hiding place they can fit into. It also gives them an opportunity to develop their social skills as they play with others, learn to deal with conflicts between participants, take turns, and practice the other skills that will enable them to work effectively in teams.
Playing hide-and-seek gives a child some valuable physical benefits as well since the exercise helps them build stamina and aids muscle development. The challenge of getting into the perfect hiding place will help improve their balance, agility, and coordination.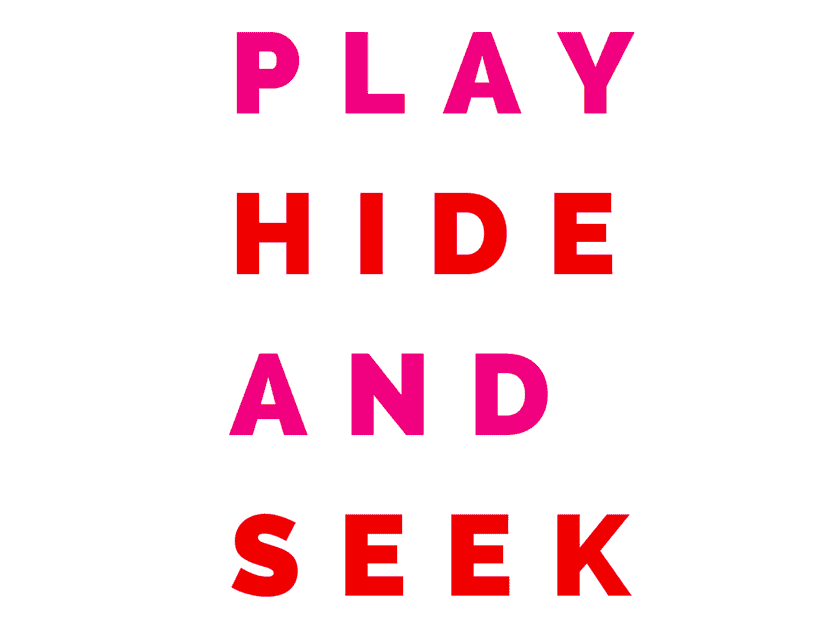 Any physical activity involves a risk and hide-and-seek is no different. It's important to have some ground rules such as setting out a safe area children should confine themselves to, banning climbing above a certain height, and pointing out hiding places they should avoid. It's also a good idea to have an organized signal for the end of the game just in case you can't find the child who has found an ingenious hiding place or if the game has run late and it's time to go home. There will always be the chance of a child falling over or scratching themselves, so players need to be dressed appropriately. Finally, the best way to keep children safe whilst playing this game is supervision.
Playing hide-and-seek is a traditional part of all of our childhoods and with the benefits it gives growing children, it's a tradition that should be carried on into the future. So close your eyes, count to ten and, ready or not, here they come!